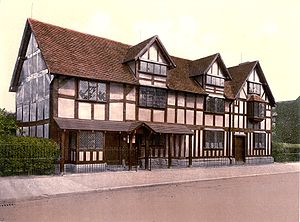 Poems Without Frontiers
Poems in Translation
William Shakespeare
---


Sonnet 97
William Shakespeare

How like a winter hath my absence been
From thee, the pleasure of the fleeting year!
What freezings have I felt, what dark days seen!
What old December's bareness everywhere!
And yet this time remov'd was summer's time,
The teeming autumn, big with rich increase,
Bearing the wanton burden of the prime,
Like widowed wombs after their lord's decease;
Yet this abundant issue seem'd to me
But hope of orphans, and unfathered fruit;
For summer and his pleasures wait on thee,
And, thou away, the very birds are mute;

Or, if they sing, 'tis with so dull a cheer
That leaves look pale, dreading the winter's near.


Sonett 97
William Shakespeare

So wie ein Winter ist meine Abwesenheit gewesen
Von dir, das Vergnügen des fliegenden Jahres!
Was für Eiskalte habe ich gefühlt, was für dunkle Tage gesehen!
Was für Kahlheit des alten Dezembers überall!

Und doch diese Abwesenheit war die Sommerzeit.
Der fruchtbare Herbst, groß mit reichem Zuwachs,
Der die leichte Bürde der Blüte trägt,
Wie verwitwete Mutterschöße nach dem Ableben ihres Herrn;

Dennoch dieser Übermass schien mir
Nur die Hoffnung von Waisenkindern und der vaterlosen Frucht;
Denn Sommer und seine Vergnügungen warten auf dich,
Und, du weg, die Vögel selbst sind stumm;

Oder, wenn sie singen, 's ist mit so abgestumpft einer Aufmunterung,
Daß Blätter blaß aussehen, und fürchten sich vor der Nähe des Winters.


Übersetzung: © David Paley