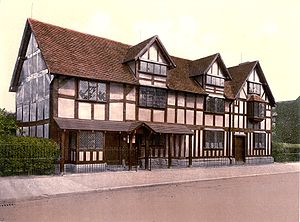 Poems Without Frontiers
Poems in Translation
William Shakespeare
---


Sonnet 73
William Shakespeare

That time of year thou mayst in me behold
When yellow leaves, or none, or few, do hang
Upon those boughs which shake against the cold,
Bare ruin'd choirs where late the sweet birds sang.
In me thou seest the twilight of such day
As after sunset fadeth in the west,
Which by and by black night doth take away,
Death's second self, that seals up all in rest.
In me thou seest the glowing of such fire
That on the ashes of his youth doth lie,
As the death-bed whereon it must expire,
Consum'd with that which it was nourish'd by.
This thou perciev'st which makes thy love more strong,
To love that well which thou must leave ere long.


Sonett 73
William Shakespeare

Jene Jahreszeit darfst du in mir betrachten,
Worin gelbe Blätter oder keine oder wenige auf jenen Ästen hängen,
Die sich gegen die Kälte schüttern,
Karge zerstörten Chöre, wo neulich die süßen Vögel sangen.

In mir ist die Abenddämmerung eines solchen Tages gezeichnet,
Der den Sonnenuntergang im Westen widerspiegelt
Wozu die schwarze Nacht sich nach und nach aneignet,
Das zweite Selbst des Todes, der alles in Ruhe versiegelt.

In mir siehst du die Glut einer solchen Feuersbrunst,
Die auf der Äsche seiner Jugend ruht
Wie das Sterbebett, worauf der Geist im Abenddunst
Von dem verzehrt wird, was ihn ernährt.

Dies erkennst du, was deine Liebe stärker macht,
Das gut zu lieben, was du in Kürze meiden mußt.


‹bersetzung: © David Paley