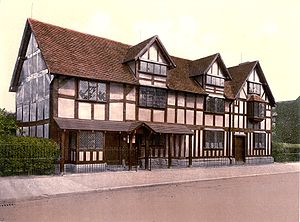 Poems Without Frontiers
Poems in Translation
William Shakespeare
---


Sonnet 65
William Shakespeare

Since brass, nor stone, nor earth, nor boundless sea,
But sad mortality o'ersways their power,
How with this rage shall beauty hold a plea,
Whose action is no stronger than a flower?
O, how shall summer's honey breath hold out
Against the wrackful siege of batt'ring days,
When rocks impregnable are not so stout,
Nor gates of steel so strong, but Time decays?
O fearful meditation! Where alack,
Shall Time's best jewel from Time's chest lie hid?
Or what strong hand can hold his swift foot back?
Or who his spoil of beauty can forbid?
O, none, unless this miracle have might,
That in black ink my love may still shine bright.


Sonett 65
William Shakespeare

Weder Messing, noch Stein, noch Erde, noch grenzenloses Meer
Ohne daß traurige Sterblichkeit ihre Macht überwältigt.
Wie gegen diese Wut kann die Schönheit sich aufs Bitten verlegen,
Deren Kraft nicht stärker als eine Blume ist?

Ach, wie soll des Sommers honiger Atem
Gegen die zerstörerische Belagerung der krachenden Tagen aushalten,
Wenn Felsen unerschütterlich nicht so kräftig sind,
Noch Tore aus Stahl so stark, daß sie zur Zeit zerfallen?

Ach, furchtbares Nachdenken! Wo leider,
Soll das beste Juwel der Zeit von der Truhe der Zeit verborgen liegen?
Oder welche starke Hand kann ihren schnellen Fuß zurückhalten?
Oder wer kann ihr Verderben der Schönheit verbieten?

Ach, keiner, anstatt dieses Wunder zur Macht komme,
Daß in schwarzer Tinte, meine Liebe noch hell scheinen darf.


‹bersetzung: © David Paley