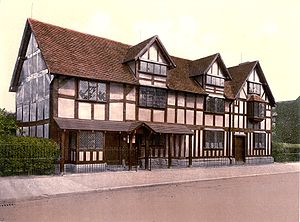 Poems Without Frontiers
Poems in Translation
William Shakespeare
---


Sonnet 60
William Shakespeare

Like as the waves make towards the pebbled shore,
So do our minutes hasten to their end;
Each changing place with that which goes before,
In sequent toil all forwards do contend.
Nativity, once in the main of light,
Crawls to maturity, wherewith being crown'd,
Crooked eclipses 'gainst his glory fight,
And Time that gave doth now his gift confound.
Time doth transfix the flourish set on youth,
And delves the parallels in beauty's brow,
Feeds on the rarities of nature's truth,
And nothing stands but for his scythe to mow.

And yet to times in hope my verse shall stand,
Praising thy worth, despite his cruel hand.


Sonett 60
William Shakespeare

Wie die Wellen, die gegen den Kieselstrand machen,
So unsere Minuten eilen zu ihrem Ende;
Jede wechselt den Platz mit der, die vorher geht,
Indem alles in einer Reihenmühe voranstrebt.

Geburt, wenn im Reich des Lichts,
Kriecht zur Reife, woraufhin, gekrönt,
Gekrümmte Verfinsterungen kämpfen wider ihren Ruhm,
Und die Zeit, die gab, jetzt ihr Geschenk verwirrt.

Die Zeit verwandelt die Blüte, die auf der Jugend liegt,
Und grübt die Parallelen in die Stirn der Schönheit,
Frißt die Raritäten der Wahrheit der Natur,
Und nichts steht, außer von ihrer Sense gemäht zu werden.

Aber doch bis in die Zeiten noch zu kommen, wird meine Dichtung dauern,
Trotz ihrer grausamen Hand, um deinen Wert zu preisen.


‹bersetzung: © David Paley