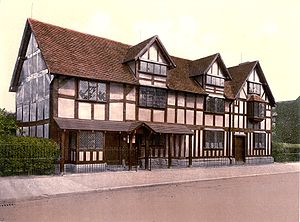 Poems Without Frontiers
Poems in Translation
William Shakespeare
---


Sonnet 44
William Shakespeare

If the dull substance of my flesh were thought,
Injurious distance should not stop my way;
For then, despite of space, I would be brought
From limits far remote, where thou dost stay.
No matter then, although my foot did stand
Upon the farthest earth remov'd from thee,
For nimble thought can jump both sea and land
As soon as think the place where he would be.
But ah! thought kills me that I am not thought,
To leap large lengths of miles when thou art gone,
But that, so much of earth and water wrought,
I must attend time's leisure with my moan,
Receiving nought by elements so slow
But heavy tears, badges of either's woe.


Sonett 44
William Shakespeare

Wäre der träge Gehalt meines Fleisches Gedanken,
Würde schädliche Entfernung meinen Weg nicht sperren;
Denn trotz des Zwischenraums, wurde ich von weit entlegenen Grenzen geholt,
Wohin du deine Bleibe hast.

Egal also, obwohl mein Fuß
Auf der entferntesten Erde von dir stände,
Denn flinker Gedanke kann zugleich See und Land überspringen,
So bald er von der Stätte daran denkt, wohin er sein will.

Aber Ach! Gedanke bringt mich um, wenn es nicht daran gedacht wird,
Daß ich große Meilenlänge springe, wenn du weg bist,
Sondern, da ich so viel aus Erde und Wasser errungen bin,
Daß ich die Ruhe der Zeit mit meinem Stöhnen begleiten muß,

Und nichts erhalte durch Elemente so langsam
Außer schwere Tränen, Abzeichen unserm gegenseitigen Weh.


Übersetzung: © David Paley