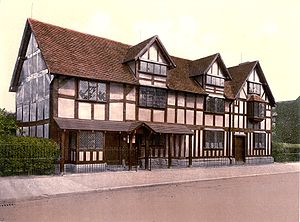 Poems Without Frontiers
Poems in Translation
William Shakespeare
---


Sonnet 33
William Shakespeare

Full many a glorious morning have I seen
Flatter the mountain-tops with sovereign eye,
Kissing with golden face the meadows green,
Gilding pale streams with heavenly alchemy;

Anon permit the basest clouds to ride
With ugly rack on his celestial face,
And from the forlorn world his visage hide,
Stealing unseen to west with this disgrace,

Even so my sun one early morn did shine
With all triumphant splendour on my brow;
But out, alack! He was but one hour mine,
The region cloud hath mask'd him from me now.

Yet him for this my love no whit disdaineth;
Suns of the world may stain when heavens sun staineth.


Sonett 33
William Shakespeare

Viele glorreichen Morgen habe ich gesehen,
Die den Berggipfel mit souveränem Auge schmeichelten.
Sie küßten mit goldenem Gesicht die Wiesen grün,
Und vergüldeten bleiche Bäche mit himmlischer Alchemie;

Dann erlaubten sie die niedrigsten Wolken
Mit hä▀lichem Makel auf ihrem himmlischen Gesicht zu reiten,
Und ihren Antlitz von der verlassenen Welt zu verstecken,
Als sie unbeachtet nach Westen mit dieser Schande stahlen.

Ebenso eines frühen Morgens, schien meine Sonne
Mit aller siegreichen Pracht auf meiner Stirn;
Aber leider aus! Sie war nur eine Stunde meins,
Der Wolkenmasse hat sie jetzt von mir maskiert.

Aber, dafür schätzt ihr meine Liebe in keiner Weise ab;
Sonnen der Welt darf nur befleckt, wenn die Sonne des Himmels flecken.


▄bersetzung: ę David Paley