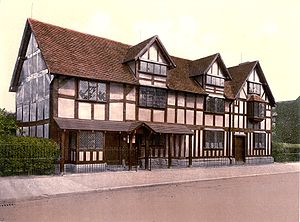 Poems Without Frontiers
Poems in Translation
William Shakespeare
---


Sonnet 25
William Shakespeare

Let those who are in favour with their stars
Of public honour and proud titles boast,
Whilst I, whom fortune of such triumphs bars,
Unlook'd for joy in that I honour most.

Great princes' favourites their fair leaves spread
But as the marigold at the sun's eye;
And in themselves their pride lies buried,
For at a frown they in their glory die.

The painful warrior famoused for fight,
After a thousand victories once foil'd,
Is from the book of honour razed quite,
And all the rest forgot for which he toil'd.

Then happy I, that love am beloved
Where I may not remove nor be removed.


Sonett 25
William Shakespeare

Laß diejenigen, die mit ihren Sternen in Gnaden sind,
Von allgemeiner Ehre und stolzem Titel prahlen,
Während ich, der das Glück von solchen Triumphen sperrt,
Als Unhervorragender, Freude darin finde, was ich am meisten ehre.

Günstlinge der großen Prinzen laden ihr holdes Laub aus,
Eben wie die Ringelblume unterm Sonnenauge;
Und in sich liegt ihr Stolz vergraben,
Denn beim Stirnrunzeln sterben sie in ihrem Rühm.

Der plagende Krieger berühmt für seinen Kampf,
Nach tausend Siegen einmal geschlagen,
Wird vom Ehrenbuch ganz gestrichen,
Und der ganze Rest vergessen, worauf er strebte.

Dann fröhliche ich, der liebt und wird geliebt
Wo ich mich nicht entfernen will, noch entfernt werden wird.


Übersetzung: © David Paley