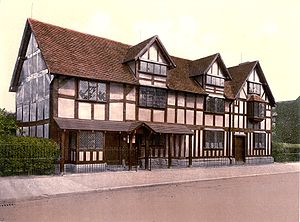 Poems Without Frontiers
Poems in Translation
William Shakespeare
---


Sonnet 2
William Shakespeare

When forty winters shall besiege thy brow,
And dig deep trenches in thy beauty's field,
Thy youth's proud livery, so gaz'd on now,
Will be a tatter'd weed of small worth held.
Then, being ask'd where all thy beauty lies,
Where all the treasure of thy lusty days,
To say within thine own deep-sunken eyes
Were an all-eating shame and thriftless praise.
How much more praise deserv'd thy beauty's use,
If thou couldst answer 'This fair child of mine
Shall sum my count, and make my old excuse'
Proving his beauty by succession thine!
This were to be new made when thou art old,
And see thy blood warm when thou feel'st it cold.



Traduction
Bonjour a tous



Sonett 2
William Shakespeare

Wenn vierzig Winter deine Stirn belagern
Und tiefe Graben im Feld deiner Schönheit ausheben,
Wird deine stolze Jugendlivree, jetzt so bewundert,
Als zerfetztes Unkraut von kleinem Wert betrachtet.

Dann, wenn gefragt, wo alle deine Schönheit liege,
Wo alle Schätze deinen gesunden Tagen,
Zu sagen innerhalb deiner tief gesunkenen Augen
Wäre eine allzu fressende Scham und gewinnloses Lob.

Wieviel mehr Lob hätte das Gebrauch deiner Schönheit verdient,
Hättest du antworten können, 'Dieses holde Kind von mir
Soll meine Leistung zeigen, und meine alte Entschuldigung machen'
Und zwar seine Schönheit durch Folge deine beweisen!

Dies wäre neu gemacht zu werden, wenn du alt bist,
Und dein Blut warm zu sehen, wenn du es kalt fühlst.


‹bersetzung: © David Paley