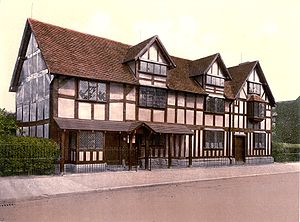 Poems Without Frontiers
Poems in Translation
William Shakespeare
---
Language of Authorship:
English


Sonnet 18
William Shakespeare

Shall I compare thee to a summer's day?
Thou art lovelier and more temperate.
Rough winds do shake the darling buds of May
And summer's lease hath an all too short a date.
Sometimes too hot the eye of Heaven shines
And often is his gold complexion dimm'd
And every fair from fair some time declines,
By chance, or nature's changing course, untrimm'd;
But thy eternal summer shall not fade
Nor lose possession of that fair though ow'st;
Nor shall Death brag thou wand'rest in his shade,
When in eternal lines to time thou grow'st.
So long as men can breathe or eyes can see,
So long lives this, and gives life to thee.


Sonett 18
William Shakespeare

Soll ich dich mit einem Sommertag vergleichen?
Du bist lieblicher und gemäßigter,
Rauhe Winde schütteln die lieben Maienknospen
Und Sommers Miete hat eine all zu kurze Dauer.

Manchmal zu warm das Auge des Himmels glüht
Und oft ist seine goldene Gesichtsfarbe verhüllt,
Und jede Schönheit von Schönheit verbluht
Durch Zufall oder den ändernden Kurs der Natur berührt.

Aber dein ewiger Sommer wird weder schwinden
Noch den Besitz deiner Schönheit verlieren,
Noch kann der Tod prahlen, dich in seinem Schatten zu finden
Wenn die Erblinien der Zeit dich verewigen werden.

So lange Männer atmen können, oder Augen sehen,
So lange lebt dies, und dies gibt dir das Leben.


Übersetzung: © David Paley