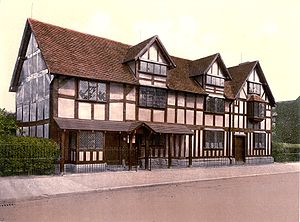 Poems Without Frontiers
Poems in Translation
William Shakespeare
---


Sonnet 12
William Shakespeare

When I do count the clock that tells the time,
And see the brave day sunk in hideous night;
When I behold the violet past prime,
And sable curls all silver'd o'er with white;
When lofty trees I see barren of leaves,
Which erst from heat did canopy the herd,
And summer's green all girded up in sheaves
Borne on the bier with white and bristly beard;
Then of thy beauty do I question make
That thou among the wastes of time must go,
Since sweets and beauties do themselves forsake,
And die as fast as they see others grow;
And nothing 'gainst Time's scythe can make defence
Save breed, to brave him when he takes thee hence.


Sonett 12
William Shakespeare

Wenn ich die Uhr kenne, die die Zeit anzeigt,
Und siehe den braven Tag in grauenhafter Nacht gesunken;
Wenn ich das Veilchen nach seiner Blütenzeit betrachte,
Und schwarze Locken, mit weiß versilbert;

Wenn ich hohe Baüme sehe, kahl von ihrem Laub,
Das die Herde vor der Hitze früher schattierten haben;
Und das Grün des Sommers alles in Garben gegürtet
Auf der Bahre getragen, mit weißem und borstigem Bart;

Dann von deiner Schönheit, stelle ich mir die Frage
Das du auch in den Wüsten der Zeit eintreten mußt,
Da Süße und Schönheit selbst hinscheiden müssen,
Und so schnell sterben, als sie andere wachsen sehen.

Und nichts kann sich gegen die Sense der Zeit verteidigen
Außer vermehren, um ihn ins Auge zu blicken, wenn er dich von hinnen nimmt.


Übersetzung: © David Paley