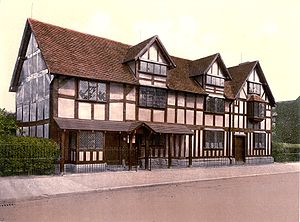 Poems Without Frontiers
Poems in Translation
William Shakespeare
---


Sonnet 116
William Shakespeare

Let me not to the marriage of true minds
Admit impediments. Love is not love
Which alters when it alteration finds,
Or bends with the remover to remove.
O, no! It is an ever-fixed mark,
That looks on tempests and is never shaken;
It is the star to every wand'ring bark,
Whose worth's unknown, although his height be taken.
Love's not Time's fool, though rosy lips and cheeks
Within his bending sickle's compass come;
Love alters not with his brief hours and weeks,
But bears it out even to the edge of doom.
If this be error, and upon me prov'd,
I never writ, nor no man ever lov'd.


Sonett 116
William Shakespeare

Lass mich zur Ehe treuer Seelen
Keine Hindernisse zugeben. Liebe ist es nicht,
Die sich ändert, wenn Änderungen ins Leben stehlen
Oder schon unter Außen Druck zerbricht.

Ach, Nein! Sie ist ein fest verankertes Zeichen,
Die auf Stürme blickt, und nie erschüttert wird.
Sie ist der Stern zu jeder durchstreifenden Nachen
Dessen Höhe gemessen sei, trotz unbekanntem Wert.

Liebe ist kein Narr der Zeit. Rubinen Wangen weichen
Und die Lippe vor der biegenden Sichel bricht;
Doch Liebe ändert nicht mit den kurzen Wochen,
Sondern trägt es heraus, auch zum Jüngsten Gericht.

Wenn dies Fehler sei, und auf mich bewiesen,
Hat kein Mann je geliebt und niemals habe ich geschrieben.


Übersetzung: © David Paley